Product Details
CO2 Metal Sheet Laser Cutting Machine is widely used in sheet metal processing, hardware, precision machinery, auto parts, glasses, jewelry, plate, advertising, handicrafts, electronics, toys, packaging and other industries. Especially used to cut carbon steel, silicon steel, stainless steel, aluminum alloy, titanium alloy, galvanized plate, pickling board, aluminum Zinc, copper and other material rapidly.
Product Parameters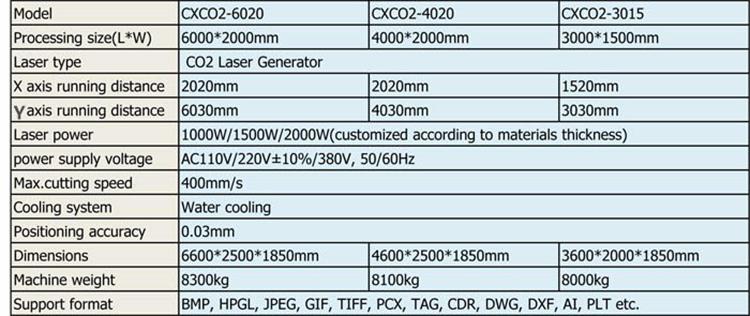 Product Features

Enclosure design conforms to CE standard for reliable and safe processing.

Pallet changer is convenient for material uploading and unloading, improving efficiency.

Low operating and maintenance costs. Achieve long-term return on investment and revenue maximization.

Rack and pinion system, ensure high accuracy and working efficiency during high speed cutting.

Drawer collecting device makes receiving materials more convenient.

Aiming at high speed cutting, strengthened welded machine body after 2 times of aging process, ensuring long-term accuracy and stability of performance.

Automatic nesting software (including material management and optimized processing technology) and providing with database of process parameters for easy operation and simple management.

Optimized optical lens, specially designed nozzle and sensor technology realize more stable and smooth cutting. Optional collocation of 2000mmX4000mm, 2000mmX6000mm, 1500mmX3000mm working table.
More
Our Services:
Pre-sale services: enthusiasm
We provide you with the process plan, process flow design and manufacturer equipment according to your special demand.
Sale services: servant
Send technicians to the job site for guiding the installation and adjustment of CO2 Metal Sheet Laser Cutting Machine, training operators and finishing the check and accept together with you.
After-sale services: faithfulness
To establish long term friendship, we will regularly pay return visit to customers.
Inquiry
Hot Tags: co2 metal sheet laser cutting machine, China, manufacturers, suppliers, buy, cheap, price