Product Details
Model

EOJM-1390H/EOJM-1390T

EOJM-1610H/EOJM-1610T

EOJM-1313H/EOJM-1313T


EOJM-1325H/EOJM-1325T

Laser type

Domestic sealed off CO2 laser tube

Cutting area

1300mm×900mm×2

1600mm×1000mm×2

1300mm×1300mm×2

1300mm×2500mm×2

Laser power

80w(Optional 100w 120w 130w 150w)

Cooling

Water chiller

Moving system

Stepping motor

Engraving speed

0-64000mm/min

Max cutting speed


0-36000mm/min

Cutting energy controlling

Can be fine-tuned


Cutting speed controlling

Can be fine-tuned

Dimension(mm)

1910×1450×1130

2210×1550×1130

1910 ×1850×1130

1930×3500×1250

Environmental requirements

Temperature 15℃ humidity 30%-80%


Power supply

220V/50-60HZ, 10Amax

Wide processing range, large working width, optional humanized automatic lifting work platform design, which makes the equipment meet the processing of various web materials, and can ensure the best focusing and processing effect of materials with differment thicknesses. It can also be used for fine engraving of various non-metallic cylinrical matreials such as bamboo and wood with a rotating device.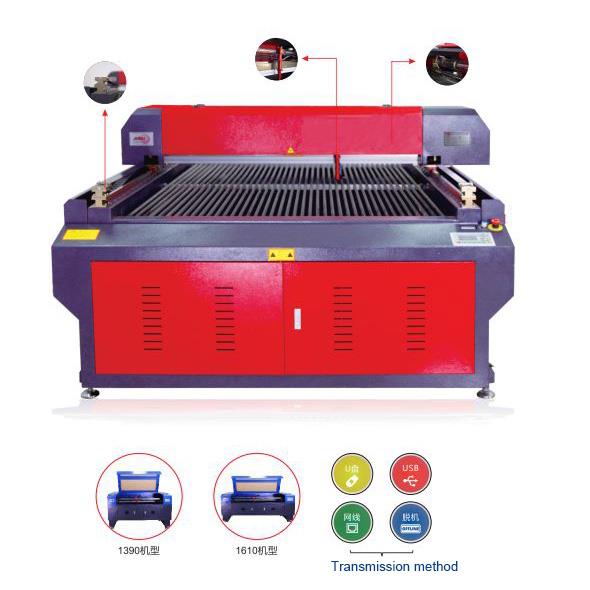 Advantages
The machine is specialized in acrylic, medium fiberboard, splint, PS board, double-color board, wood board, plastic board and other high density plate cutting and engraving. This model is specially used for plate cutting. It has a suitable working platform, with a feeder, easy to operate, It is widely used in advertising, furniture, crafts, wooden boxes, electronics and other industries.
Applicable industry
Applied to packaging printing, clothing, leather goods, decoration, paper products, advertising decoration, craft gifts, etc.

Applicable materials
Wood products, acrylic, plexiglass, cloth, leather, paper, rubber, synthetic materials, etc.

Our Services
Pre-sale services: enthusiasm
We provide you with the process plan, process flow design and manufacturer equipment according to your special demand.
Sale services: servant
Send technicians to the job site for guiding the installation and adjustment of Laser Cutting Machine For Wood, training operators and finishing the check and accept together with you.
After-sale services: faithfulness
To establish long term friendship, we will regularly pay return visit to customers.
Inquiry
Hot Tags: laser cutting machine for wood, China, manufacturers, suppliers, buy, cheap, price