Product Details
Quick Details
Condition:
New
Place of Origin:
China (Mainland)
Brand Name:
EO
Model Number:
LX-D1 laser welding machine
Single Pulse Energy:
40J,60J,80J
Pulse Width:
≤20ms
Wavelength:
1064nm
Focal Spot Diameter:
0.1-3.0mm
Max. Output Power:
200W laser welding machine
Dimensions:
920mm*560mm*1220mm
Usage:
laser welding machine for jewelry
Power(W):
100W/150W/200W/400W laser welding machine
Certification:
CE, FDA
Warranty:
1 year
After-sales Service Provided:
Engineers available to service machinery overseas
Product:
100W 150W 200W 400W laser welding machine
Product name:
laser welding machine
Power Supply:
220V±10% /50Hz
Cooling System:
Water cooling
Power Consumption:
4KW
Net Weight:
130kg(welder)+50kg(chiller)
Package:
Durable wooden case(customized package accepted)
OEM/ODM:
Support
Factory:
Have own factory in Wuhan
Processing material:
Gold/silver/titanium/platinum jewe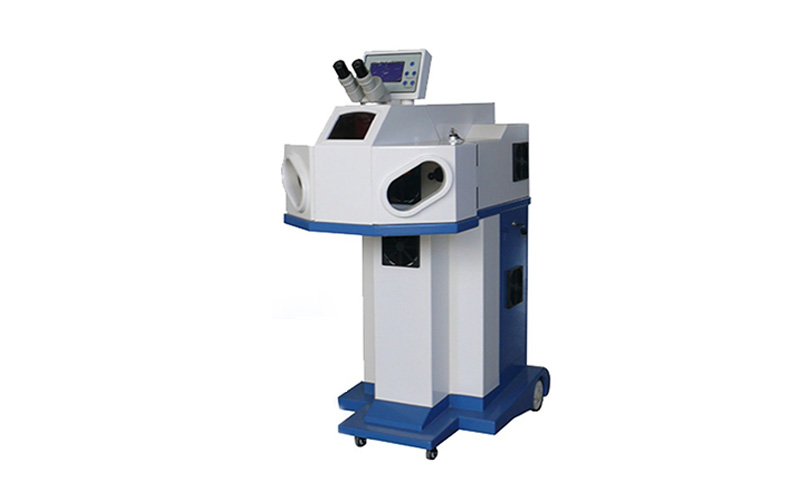 Instrument introduction
Jewelry laser welding machine is an important and basic aspect of laser welding technology. When laser radiation heats the surface of work-piece, the surface heat diffuses to the interior through thermal conduction and melts the work piece by controlling the width, energy, peak power and repeating frequency of laser pulse to form specific molten pool. Because of this unique feature, it is widely used in processing of precious jewelry or welding of precision parts.
Jewelry laser welding machine features
1. The energy, pulse width, frequency and light spot size can be adjusted in a large range to realize different welding effects. The parameters are adjusted by the lever in the seal cavity, which is simple and highly efficient.
2. Ceramic converging cavity is imported from the Britain. It is corrosion resistant and high temperature resistant with 8-10 years service life. The life of xenon lamp is more than 8 million times.
3. Most advanced light shielding system eliminates the irritation to eyes by laser during working.
4. Able to work for 24 hours continuously; stable performance; free of maintenance in 10,000 hours.
5. Human-based design accords with ergonomics, avoiding fatigue after long time working.
6. High speed, high efficiency, deep enough, slightly deformation, small heat effect area, high welding quality, pollution free, environmental friendly.
Application
It is specially used for spot welding, perforating, repairing, retipping and resizing of gold/silver/titanium/platinum jewelries,stone caging and gap-bridging of small accessories. It is also widely used in aviation, aerospace, sports products, eyewear frames, medical instruments, titanium alloy denture, instruments, electronics, machinery, automobile, etc.
Technical parameters






Model No.
LX-D1-100W laser welding machine
LX-D1-150W laser welding machine
LX-D1-200W laser welding machine
Laser Source
Nd:YAG
Laser Wavelength
1064nm
Rated Power
100W
150W
200W
Laser Energy
40J
60J
80J
Pulse Width
≤20ms
Pulse Frequency
≤50Hz
Beam Diameter
0.1-3.0mm
Power Supply
220V±10% /50Hz
Observing System
microscope
Chamber Illumination
LED lamps
Parameters Memorization
10 groups
Protection Alert
flow alert
Language Display
Chinese/English
Shield Gas Supply
One line
Cooling System
water cooling
Power Consumption
4KW
5KW
6KW
Welding Chamber Dimensions
300mm*450mm*150mm(L*W*H)
Machine Dimensions
920mm*560mm*1220mm (L*W*H)
Running Environment
5℃-30℃, 5%-75% humidity
Net Weight
130kg(welder)+50kg(chiller)
Our Service
Spot delivery, including delivering small batches of goods Provide wide-range and complete materials series products Cutting plates, including complex shapes of materials and special processing and disposal Cutting bars and strips Our application technology expert provide the best material and recommendation One-stop service.
Inquiry
Hot Tags: stainless steel metal jewelry laser welding machine, China, manufacturers, suppliers, buy, cheap, price