Product Details
Model

EOJM-960T


EOJM-1080T

EOJM-1280T


EOJM-1390T

EOJM-1480T

EOJM-1490T

EOJM-1680T

EOJM-1610T

EOJM-1810T

EOJM-1910T


Laser type

Domestic sealed off CO2 laser tube

Cutting area


900mm×600mm×2

1000mm×800mm×2

1200mm×800mm×2

1300mm×900mm×2

1400mm×800mm×2

1400mm×900mm×2

1600mm×800mm×2

1600mm×1000mm×2

1800mm×1000mm×2

1900mm×1000mm×2

Laser power


80w(Optional 100w 120w 130w 150w)

Cooling

Water chiller

Moving system

Stepping motor

Engraving speed

0-64000mm/min


Max cutting speed

0-36000mm/min

Cutting energy controlling

Can be fine-tuned

Cutting speed controlling

Can be fine-tuned


Dimension(mm)

1510×1135×1130

1610×1350 ×1130

1810×1350×1130

1910×1450×1130

2010×1350×1130

2010×1450×1130

2210×1350×1130


2210×1550×1130

2410×1550×1085

2510×1550×1085

Environmental requirements

Temperature15℃ humidity30%-80%


Power supply

220V/50-60HZ, 10Amax

Double-head laser cutting machine means two laser heads work at the same time; the double head is more efficient (optional with multiple laser heads, the same working time can be multiplied). Laser cutting machine is a laser beam emitted from a laser that is focused by a light path system into a laser beam of high power densuty. The laser beam is irradiated onto the surface of the workpiece to bring the workpiece to a melting point or boiling point, while the high-pressure gas coaxial with the beam blows away the molten or vaporized metal. As the beam moves relative to the workpiece, the material is finally slit, thereby achieving the purpose of cutting.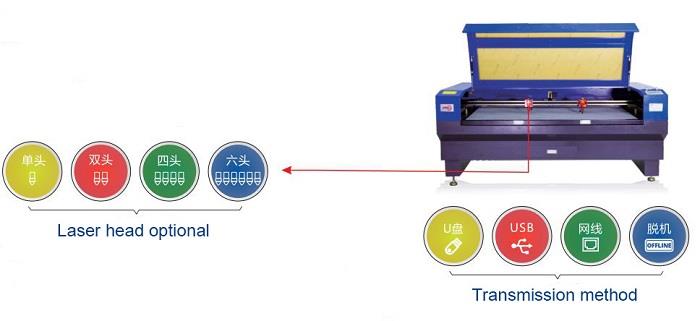 Features

Humanized operating platform, advanced DSP digital control technology, convenient usb data transmission application, a wide range of usable area, the purpose is to achieve large- format cutting and engraving needs of enterprises, the use of mioving systems adopt high-speed six-equalized balls and precision rack and pinion drives to ensure machining acuracy and speed, and be available in single and dual laser heads. In addition, according to the customer's need, the front and rear feeding frame made by the imported linear system, as well as a variety of special devices.

Advantages

High-speed stability laser power, no yellow edges, no black edges, no focal edges, double-headeed interactive odd-numbering type- setting(optional).

Applicable industry
This type of machine is suitable for clothing, leather, cloth toys, computer embroidery cuttting, applique embroidery, models, crafts, advertising, decoration, packaging and printing and many other industries.
Applicable materials

Wood products, paper, leather, cloth, plexiglass, epoxy resign, acrylic, wool, plastic, rubber, ceramic tile, crystal jade, bamboo products and other non- metallic matterials.


Our service

Spot delivery, including delivering small batches of goods
Provide wide-range and complete materials series products
Cutting plates, including complex shapes of materials and special processing and disposal
Cutting bars and strips
Our application technology expert provide the best material and recommendation
One-stop service
Inquiry
Hot Tags: CO2 Leather Laser Engraving Cutting Machine, China, manufacturers, suppliers, buy, cheap, price