Product Details
CNC Fiber Metal Laser Cutting Machine adopts gantry-motion structure, linear guide, screw drive, AC servo motor and drives, and vacuum system (both sides), etc. The one-time processing area is 3m*1.5m. Not only that the equipment's design is advanced and reliable, but also that all key components are from both national and international well-known brands. In particular, we use Germany BECKHOFF' company's professional laser CNC system for the electrical control system. This special laser CNC system has advantages of high integration, better control precision and more stable operation, therefore, in addition to the meet the requirement of cutting carbon steel plate, it can also meet the requirement of cutting SS plate, aluminum alloy, copper alloy and other materials.
Product Parameters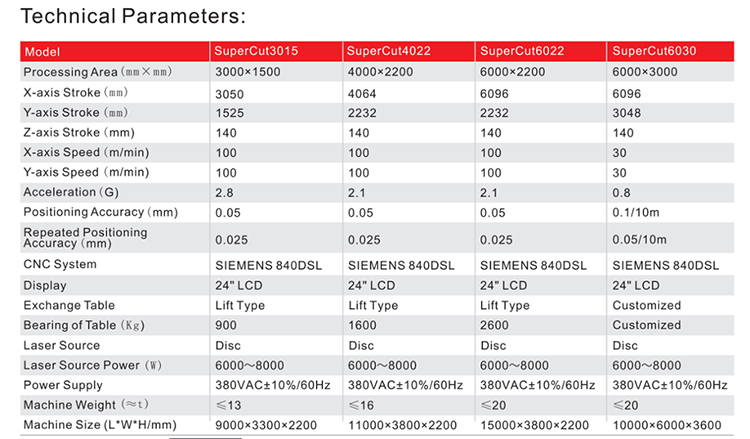 Max. Power Supply: 8000W

Thickness of Cutting : ≥30mm

Cutting Speed: 60m/m for 1mm sheet metal

High-speed Perforation: diversified high-speed perforation technology

Back-off Function: back-off to along the original route

Nozzle Cleaning: auto-nozzle cleaning

Sheet Metal Nesting and Typesetting

Auto-Line Tracking: auto calculating angle between sheet metal and machine tool coordinate

Handheld Unit: Self-invented handheld unit, convenient for technology parameter adjustment

Cutting gas controlling: Advanced integrated high pressure proportional valve
Product Features

Bright surface Cutting: Smooth cutting surface, high accuracy, perfect squareness

Diversified Sheet Choice: Standard cutting mode and SuperCut Mode

Intelligent Cutting System : Auto-controlling and auto-focusing cutting gas

Auto-Loading & Unloading System
More
Our Services:
Pre-sale services: enthusiasm
We provide you with the process plan, process flow design and manufacturer equipment according to your special demand.
Sale services: servant
Send technicians to the job site for guiding the installation and adjustment of CNC Fiber Metal Laser Cutting Machine, training operators and finishing the check and accept together with you.
After-sale services: faithfulness
To establish long term friendship, we will regularly pay return visit to customers.
Inquiry
Hot Tags: CNC fiber metal laser cutting machine, China, manufacturers, suppliers, buy, cheap, price