Product Details
Technical Parameter:
Model
EO-50
Laser device
YAG laser device
Optical maser wavelength
1064nm
Average output power
50W
Modulation frequency range
20KHz~80KHz
Maximum speed
7000mm/s
Resolution
0.001mm
Repeat location accuracy
0.003mm
Marking range
F=160mm,110×110mm
Minimum line width
0.01mm
Minimum character height
0.2mm
Sheet label marking time
≤ 90 s (depend on the content)
Paper cutting mode
Pneumatic hob
Working table
Working table with vacuum system
Laser power supply
800W/AC220V/50Hz, 1.1KW/AC220V/50Hz
Cooling mode
Water cooled
The Max input power
2 phase 220V AC,50 / 60 Hz
Environmental Requirement
0~35°C,humidity≤90%
Warranty
One year
Package
Wooden case
Delivery time
5 working days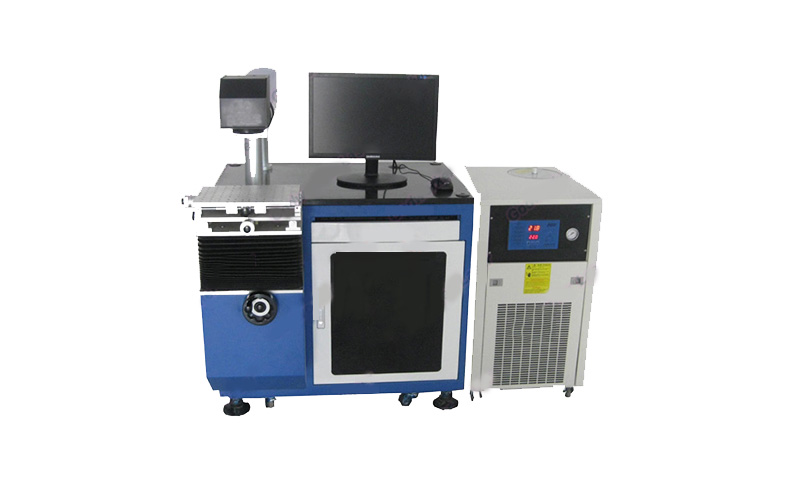 Features and advantages
Red light pointer previews the exact positioning with focus indication. Equipped with luxury component, imported focus lens and reflected mirror, USA imported diode module, top glass scanning head, famous English "Gooch" brand Q switch, makes high efficiency and steady performance.
Compare with the YAG laser marker, it doesn't need to change the consumables Kr lamp, free of maintenance,very low operation cost.
Professional control software to give customer's friendly and easy operating interface. Which can set different marking parameters setting to satisfy different effect.
High efficient water cooling, special auto emergency water stop protection function, can ensure the machine to work under any environment steadily
Up-and-down worktable to ajust the foucs distance for the convenience of different height of workpieces.
Diode side-pump laser and the high speed galvo head to engrave the deep depth.
Applicable industries
This machine is suitalbe for marking the barcode, serial number, graph, logo on the metal and some non-metallic materials as follow: gold, silver, stianless steel, copper, brass, aluminium, plastic, PVC, PES, ABS, ceramics and so on. And it has been widely applied in the indsutries, like electronic primary device, the communication, the spare parts of automobiles and motorcycles, the instrument measuring appliance, the aerospace, the war industry product, the hardware and machinery, the tool measuring instrument cutting tool, the sanitary equipment, the solar energy, handicraft and so on.
Our Service
Spot delivery, including delivering small batches of goods
Provide wide-range and complete materials series products
Cutting plates, including complex shapes of materials and special processing and disposal
Cutting bars and strips
Our application technology expert provide the best material and recommendation
One-stop service
Inquiry
Hot Tags: diode laser marking machine, China, manufacturers, suppliers, buy, cheap, price