Product Details
Technical Parameter:
Model
GW-10 / 20 / 30 / 50
Laser device
China MFP / Gernmany IPG / U.K SPI
Optical maser wavelength
1064nm
Average output power
10W / 20W / 30W / 50W
Beam Radiation Angle
≤2mrad
Modulation frequency range
20KHz~80KHz
Beam Quality
M2:1.2-1.8
Working Environment
Clean and dust free or dust less
Marking Depth
0-1mm(depending on the materials)
Maximum speed
8000mm/s
Resolution
0.001mm
Repeat location accuracy
0.003mm
Marking range
F=160mm,160×160mm
Working range
182mm x (±2mm)
Working stability (8h)
<±1%rms
Minimum line width
30um
Minimum character height
0.2mm
Sheet label marking time
≤ 90 s (depend on the content)
Laser power supply
<500W / 220V / 50Hz,
Cooling mode
Air cooled
The Max input power
2 phase 220V AC,50Hz,about 2.5A
Environmental Requirement
0~35°C,humidity≤90%
Graphic Format Supported
bmp,jpg,gif,tga,ai,dxf,dst,plt,etc.
Warranty
2 year, within time free change parts
Package
Wooden case
Delivery time
5 working days
Packing size
1000*1200*1600mm
G.W
20kg--60kgs
Configurations:
1. IPG 20W laser source
2. IPG control board & control system
3. 17inch computer
4. Golden Orange software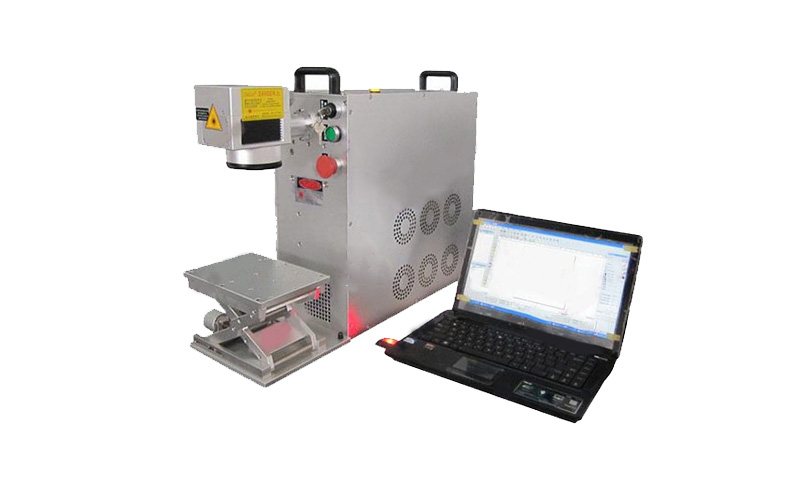 Application
Many type of metal: Gold, Silver, Stainless Steel, Copper, Aluminum, chrome Brass, etc
Alloy and metal oxides: Anodized Aluminum
Some non-metal materials & Special surface treatment: silicon wafer, ceramics, plastic, rubber, epoxy resin, ABS, Printing ink, Plating, Spraying, Coating film.
Advantages
Most advanced. New style fiber laser marking machine is the 3th-generation laser marking machine which is manufactured by the most advanced laser technology in current of the world.
Delicate marking. The quality of laser beam is very good (near to the limit of diffraction,eporting TEM00 fundamental transverse mode,M2 near to 1,expanding of laser beam is only 1/4 of the diode laser marker),therefore it is very suitable for delicate marking.
Fastest marking. With high repeat of the pulse,power output steadily,energy surge of single pulse is lower than 1%,can achieve high speed marking,and control the depth and shape of the facula.
The processing speed is 2-3 times than the traditional marking machine.
Compact. The size of the macine is very small, portable, suitable for both mobile and fixed working.
11 years life,ultra-low running cost. Long life,ultra-low power consumption,the conversion efficiency is more than 30%,the unit power of the machine is no more than 0.5kw.
Wide range of application.The machine can marking on all the metal materials and some of nonmetal materials.
Easily Operating: Afford the specific marking software based on Windows, which is real-time adjust the laser power and pulse frequency. You can input and output by computer according to edit in the both of the specific marking software and the graphic software such as AutoCAD, CorelDRAW or Photoshop.
Our Service
Spot delivery, including delivering small batches of goods
Provide wide-range and complete materials series products
Cutting plates, including complex shapes of materials and special processing and disposal
Cutting bars and strips
Our application technology expert provide the best material and recommendation
One-stop service
Inquiry
Hot Tags: portable fiber marking machine, China, manufacturers, suppliers, buy, cheap, price