Product Details
Quick Details
Condition:
New
Place of Origin:
China (Mainland)
Brand Name:
EO
Model Number:
EO-WJ 200W
Single Pulse Energy:
80J
Pulse Width:
0.1-20ms
Wavelength:
1064 Nm
Focal Spot Diameter:
0.1-3.0mm
Max. Output Power:
200W
Dimensions:
1850mmx700mmx1750mm
Usage:
Jewelry Laser Welding Machine
Power(W):
200W
Certification:
CE
Warranty:
1 Year, 1 year
After-sales Service Provided:
Engineers available to service machinery overseas
Laser type:
YAG Laser Welding Machine
Power Supply:
220V 10% /50Hz
Pulse Frequency:
0.1-50Hz
Product name:
Jewelry laser welding machine
Application:
Jewelry welding products
Cooling System:
Water Cooling
Key word:
gold silver laser welding machine
Model:
EO-WJ 200W
Shipping:
by sea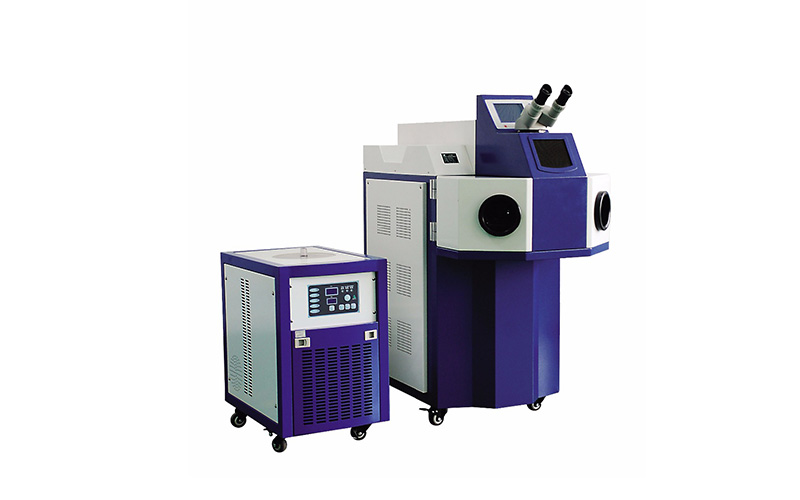 Machine Introduction:
Laser spot welding is an important way of laser materials processing technology applications, spot welding process is hot conduction type, laser radiation heating the surface, the surface of the heat through the heat transfer based internal diffusion, by controlling the laser pulse width, energy, peak power and repetition frequency and other parameters, so that the work piece to melt to form a specific pool. Because of its unique advantages, it has been successfully applied to gold and silver jewelry processing and micro, small parts welding.
Machine Features :
1). Energy, pulse width, frequency, spot size can be adjusted within a wide range, in order to achieve a variety of welding results. Parameter adjustment lever by a closed cavity, simple and efficient.
2). The British imported ceramic condenser cavity, corrosion resistance, high temperature, high photoelectric conversion efficiency, the condenser chamber life (8--10 years), xenon lamp life of more than 8 million times.
3). The world's most advanced automatic shading system, eliminating the time to protect the eyes.
4). With 24 hours of continuous work capacity, machine performance and stability, within 1,500 hours of maintenance-free.
5). User-friendly design, ergonomic, long working hours without fatigue.
6). Speed, high efficiency, depth, small deformation, small heat-affected zone, high quality welding, spot clean, efficient and environmentally friendly.
Applications :
Widely used in aviation, aerospace, sporting goods, jewelry, golf club heads, medical equipment, aluminum dentures, instruments, electronics, machining, automotive and other industries, in particular for the fill hole silver platinum titanium stainless steel jewelry accessories point weld lines, precious stones and claw feet by welding.
| | |
| --- | --- |
| Item Name | Technical Parameter |
| Model | SL-WJ 200W |
| Laser type | Nd:YAG |
| Laser Wavelength | 1064nm |
| Laser Power | 200W |
| Laser Engery | 80J |
| Pulse Width | ≤20ms |
| Pulse Frequency | ≤50Hz |
| Beam Diameter | 0.1-3.0mm |
| Observing System | microscope |
| Chamber Illumination | LED lamps |
| Parameters Memorization | 10 groups |
| Protection Alert | flow alert |
| Language Display | Chinese/English |
| Shield Gas Supply | One line |
| Cooling System | Water cooling |
| Power Consumption | 6KW |
| Power Supply | 220V±10% /50Hz |
| Welding Chamber Dimensions | 300mm*450mm*150mm(L*W*H) |
| Machine Dimensions | 920mm*560mm*1220mm (L*W*H) |
| Running Environment | 5℃-30℃, 5%-75% humidity |
| Net Weight | 130kg(welder)+50kg(chiller) |
Welding Samples: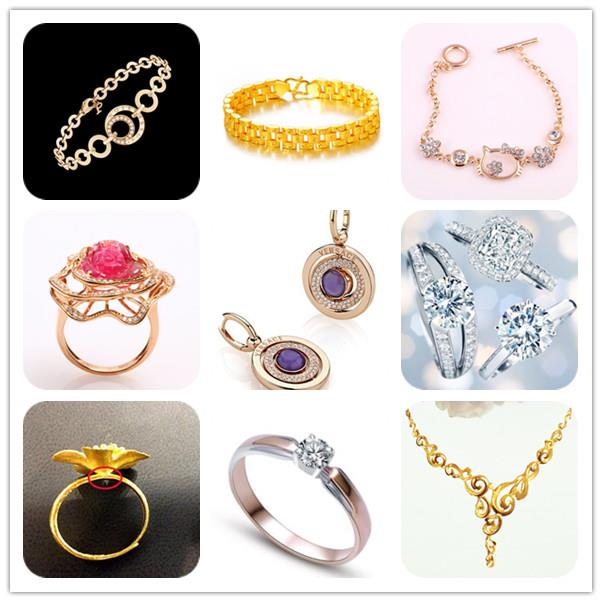 Our Service
Spot delivery, including delivering small batches of goods Provide wide-range and complete materials series products Cutting plates, including complex shapes of materials and special processing and disposal Cutting bars and strips Our application technology expert provide the best material and recommendation One-stop service.
Inquiry
Hot Tags: 200W Gold Silver Je200W Gold Silver Jewelry Spot Laser Welding Machinelry Spot Laser 200W Gold Silver Jewelry Spot Laser Welding Machinelding Machine, China, manufacturers, suppliers, buy, cheap, price